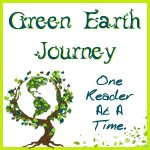 I am guest blogging on Wednesdays, Fridays, and Saturdays at Green Earth Journey. In light of this, my posts here on this blog will be on Tuesday, Thursday, and Sunday.
If you have content that you would like to contribute here, or tutorials to share, or somebody or something that you want featured, please contact me. This blog is about sharing gifts, and sharing information, and my original goal of finding contributors and features is still intact.
For today, I am sharing Green Earth Journey
and my first post there...